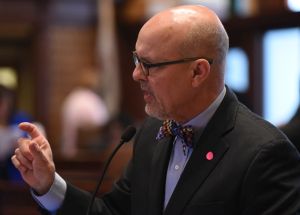 SPRINGFIELD - Elderly care facilities along with community programs may soon be required to have staffs that are adequately trained to deal with Alzheimer's and dementia patients. Under new legislation proposed by State Senator Dave Koehler (D-Peoria), elderly care facility and community program staff persons will undergo special training if the staff person cares for patients with Alzheimer's or dementia.
There is an expected 25 percent increase in dementia patients in the next decade because of aging Boomers. This has created the need for reforms in care. With SB 2301, Sen. Koehler has answered the call to ensure these facilities have trained professional staffs to deal with these increases.
"Over 200 thousand Illinois residents are affected by Alzheimer's or other forms of dementia," Koehler said. "My plan will make sure elderly care facilities along with community programs' staffs are trained to properly take care of our most vulnerable elderly."
The measure, Senate Bill 2301, sets a standard of a minimum of 6 hours of initial training within 3 months of the law's effective date for staff with direct access to clients with Alzheimer's or dementia.
Senate Bill 2301 passed out of the Illinois Senate today. It now goes to the Illinois House for approval.