Published: Friday, January 15, 2016 03:41 PM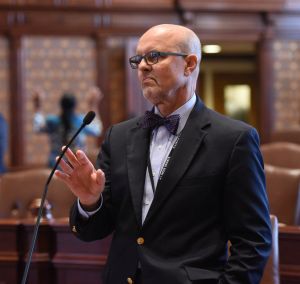 SPRINGFIELD – Having already shutdown the state budget process, Gov. Bruce Rauner is now walking away from labor talks with the state's largest employee union.
On Friday, his office said there is an impasse in negotiations, even though labor groups claim they are willing to keep working toward a compromise.
"The Governor's asking for an impasse to be declared by the labor board is disappointing. If this is a step to force a last and best offer on state workers, it will add even more chaos to state government," said State Senate Dave Koehler (D-Peoria). "This is why I supported SB1229 – to engage both sides into interest arbitration as a way to settle the labor contract with AFSCME. Interest arbitration has been used successfully with police and firefighters in Illinois for many years, and would offer a reasonable way to end this dispute."
Though the Rauner administration has contended it has reached settlements with all other unions representing state employees, in fact, no settlements have been reached with the six other unions representing more than 25,000 state employees, including state troopers and thousands of child and home health care providers.
"What we don't need is to force state workers out on strike. The situation with not having a budget is bad enough. Let's not make things worse," said Koehler. "Compromise is hard work. I urge all involved to look for ways either through arbitration or mediation, to resolve the differences between the administration and the union."
According to AFSCME, this past week, the union presented three separate proposals to the State, in which wages and health care were modified to better align with the administration's framework, and an IDOC proposal was altered to create a joint labor-management committee to improve rehabilitative opportunities for inmates.
Category: Latest