Published: Monday, June 13, 2016 03:18 PM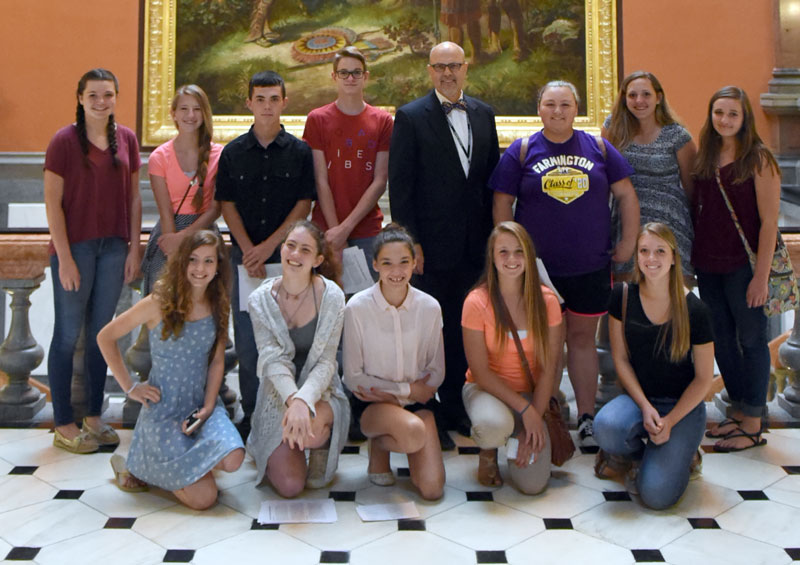 SPRINGFIELD — Amid growing uncertainty about the future of education funding in Illinois, a groups of Farmington students recently traveled to the Capitol to lend their voice to the effort to overhaul how the state funds public schools.
"We are Illinois' future. You should give us all a fair chance," said Michael Morrison, 14, who will be a freshman at Farmington High School in the fall.
Morrison was among the students, teachers and administrators who observed proceedings and met with their local lawmakers during the last scheduled day of the Illinois General Assembly's spring session. Lawmakers later adjourned without sending a final education budget to the governor.
The trek to the Capitol came after the students wrapped up classes for the year. While many were enjoying summer break, this group chose to speak up on school funding.
"We all wanted to be part of it and have a voice," said Seth Stidham, 14, another soon-to-be freshman at Farmington.
The students didn't just want a state budget for schools, they want one that recognizes the modern realities facing communities across the state.
Abby Peters, a 14-year-old incoming Farmington freshman, said Farmington gets more than some but far less than others. Exactly why seems a mystery.
"To us, it just doesn't seem fair," Peters said.
Stidham emphasized that point.
"We don't want equal funding. We want equitable funding," he said.
Senator Dave Koehler, a Peoria Democrat, represents the Farmington area in the Illinois Senate.
Koehler, who supported efforts to overhaul the existing, outdated school funding formula, welcomed the students and their viewpoints to the Capitol.
"To see young people getting involved and paying such close attention makes me optimistic about the future and resolute in working toward a better way to fund our schools," Koehler said after the Farmington group was recognized by the Senate.
The Illinois Senate, with Koehler's help, has lead efforts to overhaul the state's outdated classroom funding formula to better reflect the challenges communities face in providing educational excellence.
Category: News