Published: Tuesday, December 03, 2013 12:00 AM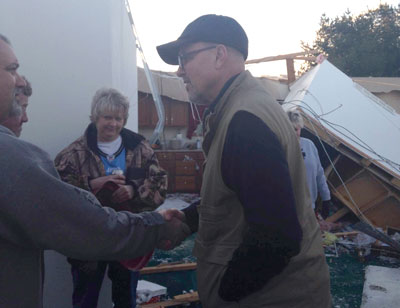 Federal resources provided by disaster declaration (Updated 12/6)
President Obama's decision to declare Tazewell County and other areas affected by last month's tornadoes Federal Disaster Areas qualifies local residents for a variety of grants and low-interest loans. These include:
Grants of up to $32,400 for disaster-related needs not covered by insurance, including replacement of property, transportation and medical care.
Low-interest loans for homeowners of up to $200,000 to cover uninsured property losses of homes, vehicles, clothing and other personal property. Both homeowners and renters can qualify for low-interest loans of up to $40,000 to replace damaged or destroyed personal property like clothing, furniture, appliances and vehicles.
Federal crisis counseling, unemployment assistance and legal aid for issues like income tax, Social Security and veterans benefits.
Low-interest loans of up to $2 million for private businesses and not-for-profit organizations to replace or repair damaged real estate, machinery and other business assets.
To apply, call 1-800-621-3362, visit www.DisasterAssistance.gov or visit m.fema.gov from your tablet or smartphone. Be sure to have your Social Security number (and your spouse's if applicable) and private insurance information available. If you want disaster assistance funds sent directly to your bank account, have your account number and routing information available.
You can also visit the Disaster Recovery Center located in East Peoria for one-on-one assistance applying for state, local and federal aid. It is located at Festival of Lights East Peoria Illinois at 2200 E. Washington St. The center will be open from 8 a.m. to 7 p.m. until further notice.
FEMA job opportunities (Added 12/17/)
The Federal Emergency Management Agency has partnered with the Illinois Department of Employment Security to offer temporary, full-time positions related to disaster assistance in the areas devastated by November's tornadoes. These positions are open to local residents and include positions in administration, writing and public information, television/radio broadcast production, planning, individual disaster assistance and logistics.
To apply, visit IllinoisJobLink.com and search for FEMA in the keyword search box. All applicants must be at least 18 years old and possess a high school diploma or GED. Applications are being accepted through December 19.
Food assistance for disaster victims (Added 12/9)
Starting December 11, disaster victims whose unreimbursed storm-related expenses or loss of work due to the storms has reduced their incomes below a certain level may qualify for food assistance under the Supplemental Nutrition Assistance Program (formerly Food Stamps). Individuals who already qualify for SNAP may be eligible for additional assistance if they meet the program requirements.
For more information, contact the Tazewell County Department of Human Services Family Community Resource Center, located at 200 S. 2nd St., Suite 20. The office phone number is 309-347-4184.
Open burn in East Peoria (Added 12/9)
The city of East Peoria is allowing open burning of tornado-related landscape waste through December 15. Note that burning building and construction materials is not allowed. You must obtain a permit first, and all normal open burning rules apply.
Visit the city's website for more information.
Salvation Army (Added 11/19)
The Salvation Army has been supporting relief efforts by setting up mobile canteens for survivors and rescue workers. To donate to support their efforts, call 800-SAL ARMY, click here or mail a check made payable to "Salvation Army" clearly marked "November Tornado Relief" to 401 NE Adams St., Peoria, IL 61603. You can also text GIVEHEART to 80888 to make an automatic $10 donation.
The Illinois treasurer's office can provide low-interest disaster recovery loans to residents, business owners and farmers who are waiting on insurance settlements or other aid programs to take effect. (For example, declaring a federal disaster area, which makes residents eligible for a wider variety of loans, can take time.)
The loan must be used to pay the cost of repairs and expenses arising directly from the disaster.
For more information, email This email address is being protected from spambots. You need JavaScript enabled to view it. or call the treasurer's Disaster Recovery hotline at 866-523-0641.
Illinois Department of Insurance
The Department of Insurance has a handy fact sheet about what you should do and what you should expect from your insurance company when dealing with disaster recovery. Knowing the facts is an important way to avoid missing opportunities. The fact sheet is available here.
As the fact sheet notes, one of the most important parts of the recovery process is selecting a reputable contractor. Con artists known as "storm chasers" often go door-to-door after major storms offering to repair homes. They frequently do a shoddy job or simply steal money or property. For more information about avoiding storm chasers, visit the National Storm Damage Center's website.
Illinois Environmental Protection Agency (Added 11/21)
Disposing of debris and waste can be a major concern after a disaster of this magnitude. The Illinois Environmental Protection Agency has put together a fact sheet explaining how to dispose of wreckage, complete with phone numbers of experts who can address common concerns. Read it here.
Red Cross (Updated 11/25)
You can donate to the Red Cross' disaster relief fund by clicking here, calling 800-RED CROSS or texting the word REDCROSS to 90999 (automatic $10 donation). For more information, call the Central Illinois Chapter of the Red Cross at 309-677-7272.
Category: Latest