Published: Monday, December 07, 2015 01:35 PM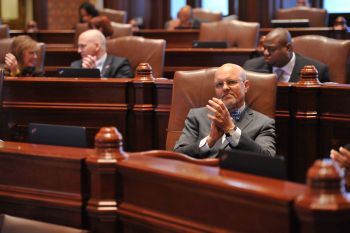 SPRINGFIELD – State Sen. Dave Koehler (D-Peoria) voted today to release $3.1 billion in funding that has been held up by the budget impasse.
"Today's action was positive," Koehler said. "I'm glad a compromise could be agreed to that authorizes spending for winter road maintenance, 911 emergency services, home heating bill assistance and other essential programs."
The package includes local shares of motor fuel tax revenues and ensures the lottery can pay all prize winners.
"Authorizing dollars to be passed from the state to local governments so they can provide core services is particularly important," Koehler said. "Local officials in central Illinois have expressed their concerns to me regarding the uncertainty of what funding they will receive from the state this year. Thankfully, once this is signed into law, they will have clarity."
The legislation frees up gas tax money for communities in Peoria, Tazewell and Fulton Counties that can be used to patch potholes and prepare for winter storms.
State transportation officials haven't provided exact numbers on how much communities are owed. Last year, though, across Peoria County local governments received more than $6.9 million in gas tax money. Throughout Tazewell County, local governments received more than $5.7 million last year, and in Fulton County they received more than $2.3 million.
Dollar amounts for key components of Senate Bill 2039 are below.
•$582.5 million to IDOT for local governments share of motor fuel gas tax revenues.
•$77 million for 911-related costs.
•$31 million to IDOT to purchase road salt.
•$1 billion to the Lottery for prizes.
•$43 million to the Community College Board for career and technical education activities.
•$45 million to the Dept of Revenue so local governments can receive their share of video gaming proceeds.
•$2.5 million for breast cancer services and research.
•$28 million for nursing home licensing and inspections.
•$165 million for home heating bill assistance.
•$3.1 million to the Illinois Department of Public Health for the Tobacco Quitline.
The House approved House Amendment 4 to Senate Bill 2039 last week, and the Senate, with Koehler's support, approved it today. Now it's up to the governor to sign it into law.
Category: Press Releases