Published: Wednesday, March 11, 2015 04:33 PM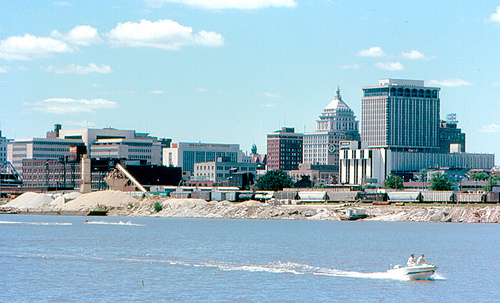 State Senator Dave Koehler joined Peoria Mayor Jim Ardis at a Senate committee hearing to support extending a successful economic development program that has benefited the Peoria community.
At issue is the River Edge Historic Tax Credit, which was created in 2012 to help riverfront communities restore historically significant waterfront properties. The program is scheduled to end next year, so river's edge communities throughout Illinois are trying to convince the General Assembly of its value.
"Illinois' cities grew up along rivers," Koehler said. "That means waterfront properties are often historically significant. It also means that they often need a lot of work. This economic development program has helped us create jobs in our local communities, protect landmarks and revitalize waterfront neighborhoods."
In order to qualify for the tax credit, the building must be owned by a business. It can be a store, rental property, warehouse or production facility, but it has to generate economic activity. It must also be on the National Register of Historic Places. If the building qualifies, the owner will receive an income tax credit worth 25 percent of the cost of repairs and upgrades.
The program has already been very successful. A University of Illinois study found that it returned $10 in economic activity for every $1 invested. It also encourages investment in vacant buildings, reducing urban sprawl and generating tax revenue for local governments. Because restoring historic buildings is more labor-intensive than new construction, the program also results in more construction jobs.
"Peoria has already benefited from this program. Buildings like the Madison Theatre – which might otherwise have sat empty – have already been restored," Ardis said. "Keeping this tax credit on the books could help us continue to promote economic development in areas like the Warehouse District."
Category: Press Releases