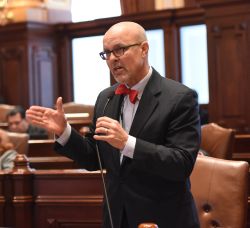 SPRINGFIELD — Schools will need to take steps to have clear plans ready in the event a student suffers a severe asthma attack under a new law sponsored by State Sen. Dave Koehler.
"It's our job to always be seeking ways to make our schools and our students safer," said Koehler, D-Peoria. "Just like regular fire drills and staff training in emergency defibrillators, having these plans in place means our faculty won't be caught flat-footed during a health crisis."
Signed into law by Governor Bruce Rauner earlier today, the legislation requires schools to request an asthma action plan each year from parents or guardians of a pupil with asthma. The Illinois State Board of Education will also be required to develop an emergency response protocol model for asthma episodes by Sept. 1. School districts will need to adopt their response protocols by Jan. 1. School personnel who work with pupils will need to complete a training program on asthma every two years.
The legislation was House Bill 6333.