Published: Tuesday, July 01, 2014 03:05 PM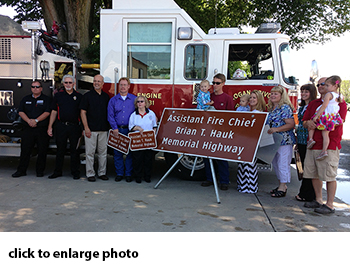 HANNA CITY – The state of Illinois is honoring Assistant Fire Chief Brian T. Hauk of the Logan-Trivoli Fire Protection District by dedicating a stretch of Illinois State Route 116 that runs from Hanna City to Elmwood in his memory.
Hauk was a volunteer firefighter for 15 years before becoming assistant fire chief. Tragically, only six months after taking on his new responsibilities in 1997, he gave his life in the line of duty. He was survived by his wife, Tina, and their two young children.
This afternoon, Hauk's friends and family gathered at the Hanna City Fire Department, where the Illinois Department of Transportation unveiled the signs that will mark Route 116. They then traveled to the location of the eastern sign.
"More than a decade after his death, the Hanna City community still remembers Brian Hauk's commitment to protecting their homes and loved ones," said State Senator Dave Koehler (D-Peoria), who passed the legislation authorizing Hauk's memorial. "His family, friends and fellow firefighters still grieve his loss. This memorial will help everyone remember his sacrifice and remind them of the risks that firefighters take for all of us every day."
Hauk was honored at the Illinois Firefighters State Memorial and at the National Fallen Firefighters Memorial in 1998.
Category: Press Releases